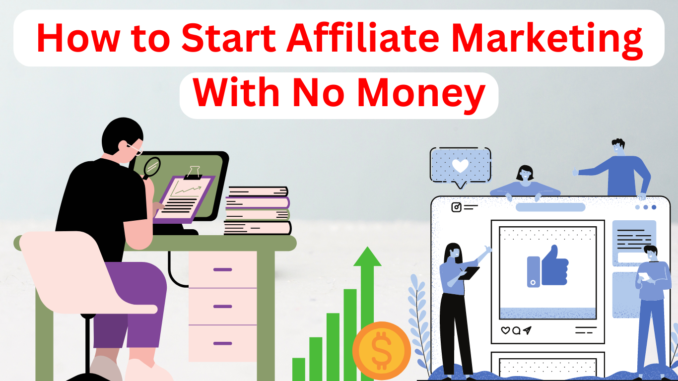 Introduction:
Starting affiliate marketing with no money requires careful planning, dedication, and a strategic approach. While it's true that having some initial budget can accelerate your progress, it's still possible to get started without spending money upfront. Here's a step-by-step guide to help you begin your affiliate marketing journey without any initial investment:
Select a niche that you are passionate about and have some knowledge in. It could be anything from fitness and health to technology, fashion, or personal finance. Ensure that the niche has enough potential for affiliate marketing and a target audience that is actively making online purchases.
Step 2: Research Affiliate Programs
Look for affiliate programs within your chosen niche. Many companies and online platforms offer affiliate programs that allow you to promote their products or services and earn a commission for every sale or lead generated through your unique affiliate link. Some popular affiliate networks to start with are Amazon Associates, ClickBank, ShareASale, and Commission Junction.
Step 3: Build a Website or Blog
Create a website or blog where you can publish content related to your chosen niche. Several free website-building platforms, like WordPress.com, Wix, or Blogger, can be used to get started. You can also explore free domain options or subdomains to keep initial costs low.
Step 4: Produce Quality Content
Start creating valuable and engaging content that provides value to your audience. Content can include blog posts, articles, product reviews, how-to guides, and more. Aim to establish yourself as an authority in your niche and build trust with your audience.
Step 5: Join Social Media Platforms
Utilize various social media platforms like Facebook, Twitter, Instagram, Pinterest, and LinkedIn to share your content and engage with your audience. Social media can help drive traffic to your website and expand your reach without any cost.
Step 6: Find Free Traffic Sources
Look for free traffic sources like online forums, Quora, Reddit, and other community websites where you can participate and share your expertise. Building relationships and providing valuable insights can help drive traffic back to your website.
Step 7: Leverage Email Marketing
Collect email addresses from your website visitors by offering a free resource or newsletter. Email marketing is a cost-effective way to nurture your audience, share your content, and promote affiliate products.
Step 8: Apply for Affiliate Programs
As your website gains traction and you have some content published, apply for affiliate programs within your niche. Be prepared to share your website details, content samples, and your marketing strategies.
Step 9: Promote Affiliate Products
Once approved, start promoting affiliate products through your content, social media channels, and email list. Be genuine and transparent in your recommendations, and focus on products that genuinely align with your audience's needs.
Step 10: Monitor and Optimize
Keep track of your affiliate marketing performance using tools like Google Analytics or other affiliate tracking platforms. Analyze what's working and what isn't, and continuously optimize your content and promotional strategies.
Remember,
starting affiliate marketing without money requires patience and persistence. It may take time to see significant results, but by consistently providing value to your audience and staying dedicated to your niche, you can build a successful affiliate marketing business over time.