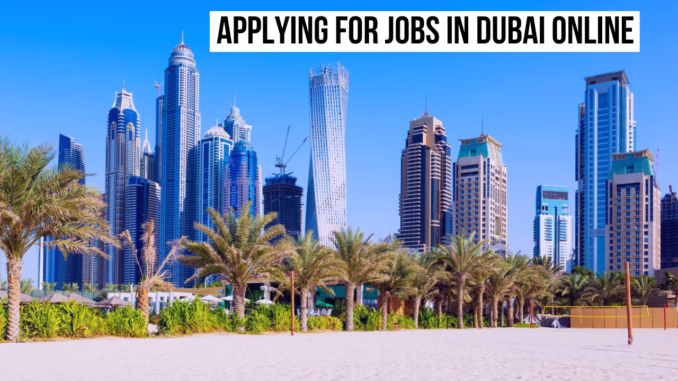 Dubai, with its thriving economy and numerous career opportunities, has become a popular destination for job seekers from around the world. With the advent of technology, applying for jobs in Dubai has become more accessible and convenient. In this article, we will guide you through the process of applying for jobs in Dubai online, providing you with valuable tips and insights to maximize your chances of success.
Research and Identify Suitable Job Portals:
To start your online job search in Dubai, it is essential to identify the most reputable and reliable job portals. Websites like Bayt, Gulf Talent, LinkedIn, Indeed, and Naukri Gulf are widely used in the region. These platforms offer a wide range of job opportunities across various industries and allow you to filter your search based on your preferences.
Create a Professional Online Profile:
Having a strong online presence is crucial in today's job market. Create a professional profile on LinkedIn and other relevant job portals. Pay attention to your profile picture, headline, and summary, making sure they reflect your skills, experience, and career aspirations. Highlight your achievements, skills, and relevant qualifications to attract potential employers.
Tailor Your Resume and Cover Letter:
Customize your resume and cover letter to match the requirements of each job you apply for. Highlight your most relevant experience, skills, and achievements. It is essential to showcase how your qualifications align with the specific job requirements. Keep the resume concise, well-organized, and easy to read.
Utilize Job Search Filters:
Job portals often provide advanced search filters to help you refine your job search. Use these filters to narrow down your options based on your preferred industry, job title, location, salary range, and other relevant criteria. This will save you time and allow you to focus on the most suitable positions.
Apply Directly on Company Websites:
In addition to job portals, many companies in Dubai have their own career pages where they post job openings. Visit the websites of your target companies regularly and apply directly through their online application systems. This demonstrates your enthusiasm and commitment to the organization.
Network and Leverage Social Media:
Networking is a powerful tool when searching for jobs in Dubai. Join industry-specific groups on LinkedIn, participate in online forums, and engage with professionals in your desired field. Networking can provide valuable insights, referrals, and even direct job opportunities.
Be Mindful of Visa Requirements:
If you are applying for a job in Dubai from abroad, it is important to research and understand the visa requirements. Some employers may sponsor work visas for qualified candidates, while others may prefer local candidates or those with existing work permits. Ensure you are eligible to work in Dubai and have the necessary documents to support your application.
Follow Up and Stay Persistent:
After submitting your application, don't hesitate to follow up with potential employers. Send a polite and concise email expressing your continued interest in the position. This demonstrates your proactive approach and determination. However, be patient, as the hiring process in Dubai may take some time.
Applying for jobs in Dubai online offers a convenient and efficient way to explore career opportunities in the city. By conducting thorough research, creating a professional online profile, tailoring your application materials, utilizing job search filters, networking, and being persistent, you can increase your chances of securing a job in this vibrant city. Remember to stay positive, proactive, and adaptable throughout the process. Good luck with your job search in Dubai!